The Magnehelic®gage is the industry standard to measure fan and blower pressures, filter resistance, air velocity, furnace draft, pressure drop across orfice plates, liquid levels with bubbler systems and pressures in fluid amplifier or fluidic systems. It also check gas-air ratio controls and automatic valves, and monitors blood and respiratory pressures in medical care equipment.
Note: May be used with hydrogen. Order a Buna-N diaphragm. Pressures must be less than 35 psi.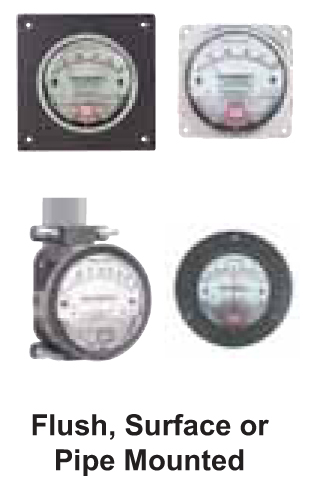 Mounting
A single case size is used for most models of Magnehelic®gages. they can be flush or surface mounted with standard hardware supplied. With the optional A-610 Pipe Mounting Kit they may be conveniently installed on horizontal or vertical 1-1/4″ – 2″ pipe. Although calibrated for vertical position, many ranges above 1″ may be used at any angle by simply re-zeroing. However, for maximum accuracy, they must be calibrated in the same position in which they are used. These characteristics make Magnehelic®gages ideal for both stationary and portable applications. A 4-9/16″ hole is required for flush panel mounting. Complete mounting and connection fittings plus instructions are furnished with each instrument.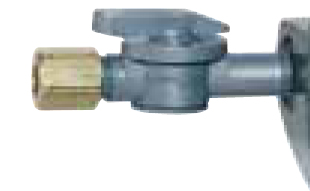 Vent Valves
In applicatins where pressure is continuos and the Magnehelicgages is connected by metal or plastic tubing which cannot be easily removed, we suggest using Dwyer A-310A vent valves to connect gage, Pressure can then be removed to check or re-zero the gage.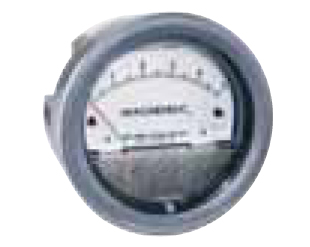 High and Medium Pressure Models
Installation is similar to standard gages except that a 4-13/16″ hole is needed for flush mounting. The medium pressure construction is rated for internal pressures up to 35 psig and the high pressure up to 80 psig. Available for all models. Because of larger case, the medium pressure and high pressure models will not fit in a portable case size. Installation of the A-321 safety relief valve on standard Magnehelic®gages often provides adequate protection against infrequent overpressure.
Options and Accessories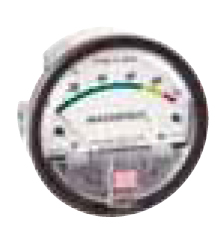 Transparent Overlays
Furnished in red and green to highlight and emphasize critical pressures.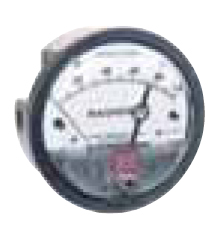 Adjustable Signal Flag
Integral with plastic gage cover. Available for most models except those with medium or high pressure construction. Can be ordered with gage or separate.
Add suffix –ASF to end of gage model number.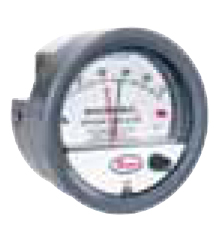 LED Setpoint Indicator
Bright red LED on right of scale shows when setpoint is reached. Field adjustable from gage face, unit operates on 12-24VDC. Requires MP of HP style cover and bezel.
Add suffix-SP to end of gage model number.